The Education Foundation offers two different opportunities for college scholarships through the Take Stock in Children program as well as the Senior Scholarship program.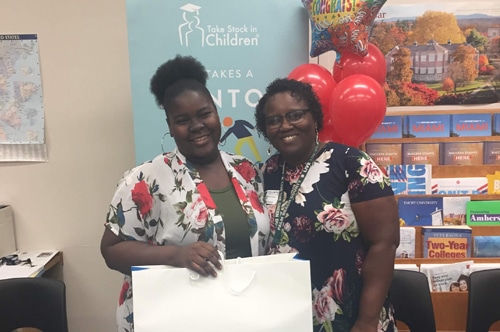 Take Stock in Children
Take Stock in Children is a scholarship and mentoring program for middle and high school students.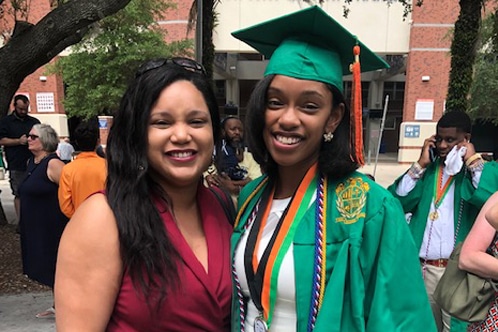 Senior Scholarship
Senior Scholarship is available for any
Alachua County high school senior who
meets the requirements.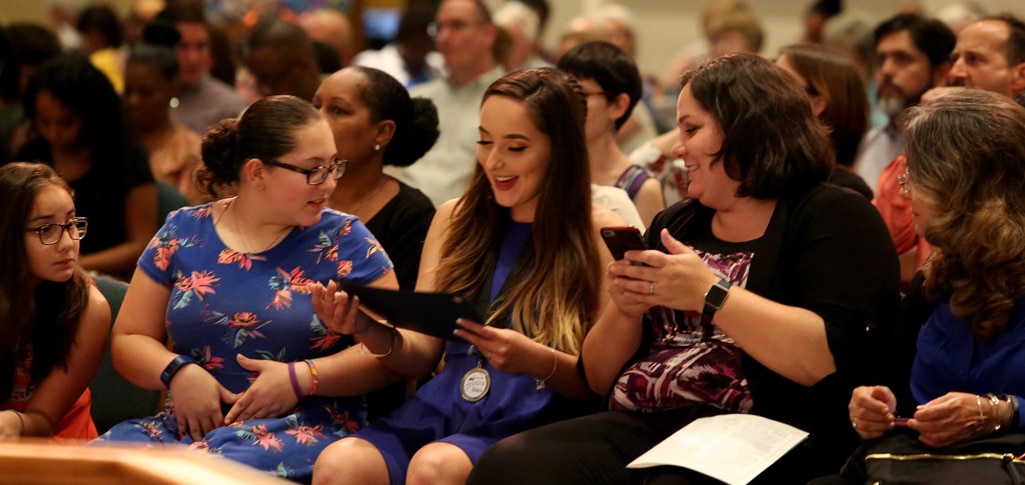 Take Stock in Children
Maximizing Student Potential
Through scholarships, mentoring and college readiness efforts, Take Stock in Children gives students an opportunity to achieve their dreams by providing guidance, confidence, and tools to better their lives and create a generational impact on their families and communities. Upon high school graduation, each TSIC scholar receives a two-year Florida Prepaid College Scholarship. This scholarship can be used at any college, university, or technical program.
$488,000
in scholarships awarded in 2022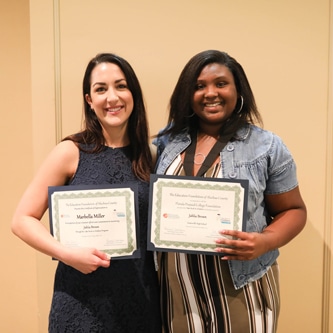 584
graduates since 1996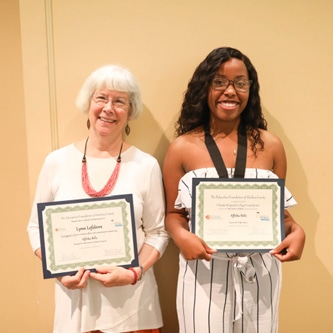 100%
college bound graduating seniors
How to Apply
Applications are currently closed for students.
To be eligible for Take Stock in Children, students must attend an Alachua County Public School, be in the sixth, seventh, eighth or ninth grade, and their family must meet these eligibility guidelines.

We have two application cycles: Fall and Spring of each school year.

If you would like to be placed on the Application Request List, please email your student's name, grade, and school to our Student Services Coordinator Alayna Reddick at reddickal@gm.sbac.edu or call 352-955-7250 Ext. 6417.
Application are currently closed!
Student Nominations
Teachers, coaches, mentors and other student advocates can nominate a student for Take Stock in Children by completing the Letter of Recommendation form below and emailing it to our Student Services Coordinator Alayna Reddick at reddickal@gm.sbac.edu .

Letters of recommendation cannot be completed by parents, guardians or family members.
Stacy has been such a helpful influence in my life. Ever since I met her in the 8th grade (4 years ago), she has met with me almost every week to talk about school, my social life, and just about anything. She has given my great advice and told me stories that helped me before I even found myself in difficult situations. I am so grateful to have had her as my mentor all these years as she has been nothing but great.

Adriana Ruiz-Meyer

I don't even know where to start…Pam goes so above and beyond just eating lunch with Avery. She is helping her apply for college scholarships, she prints out and assists her with college applications and essays, she makes sure that all of her basic needs are met, and is always there to offer her advice and be a real sense of support for her. I am sure that this match will extend WAY beyond high school graduation. Pam has made Avery feel so special and cared for in so many ways!!!!

Avery Kasgnoc
Senior Scholarship
Investing in Student Success
The Senior Scholarship program was the first initiative at The Education Foundation. It now awards over $220,000 each year in college scholarships to Alachua County public high school seniors. Through college scholarships, students are empowered and equipped to graduate from high school and exceed at the next level. Forty-two local families, businesses, and civic organizations have partnered with our Foundation to make these scholarship opportunities possible. A number of these scholarships have been set up to honor someone and help keep their memory alive by sending students to college. It is our pleasure to work with their families and friends as we remember these great people.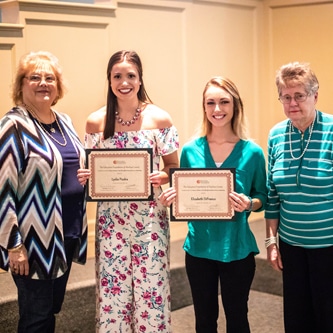 42
businesses partners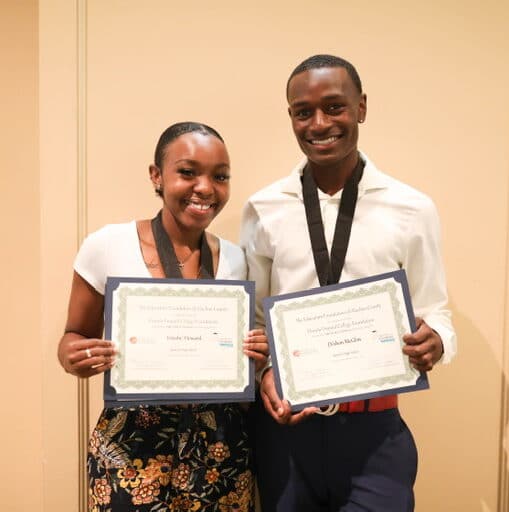 $221,000
scholarships awarded in 2022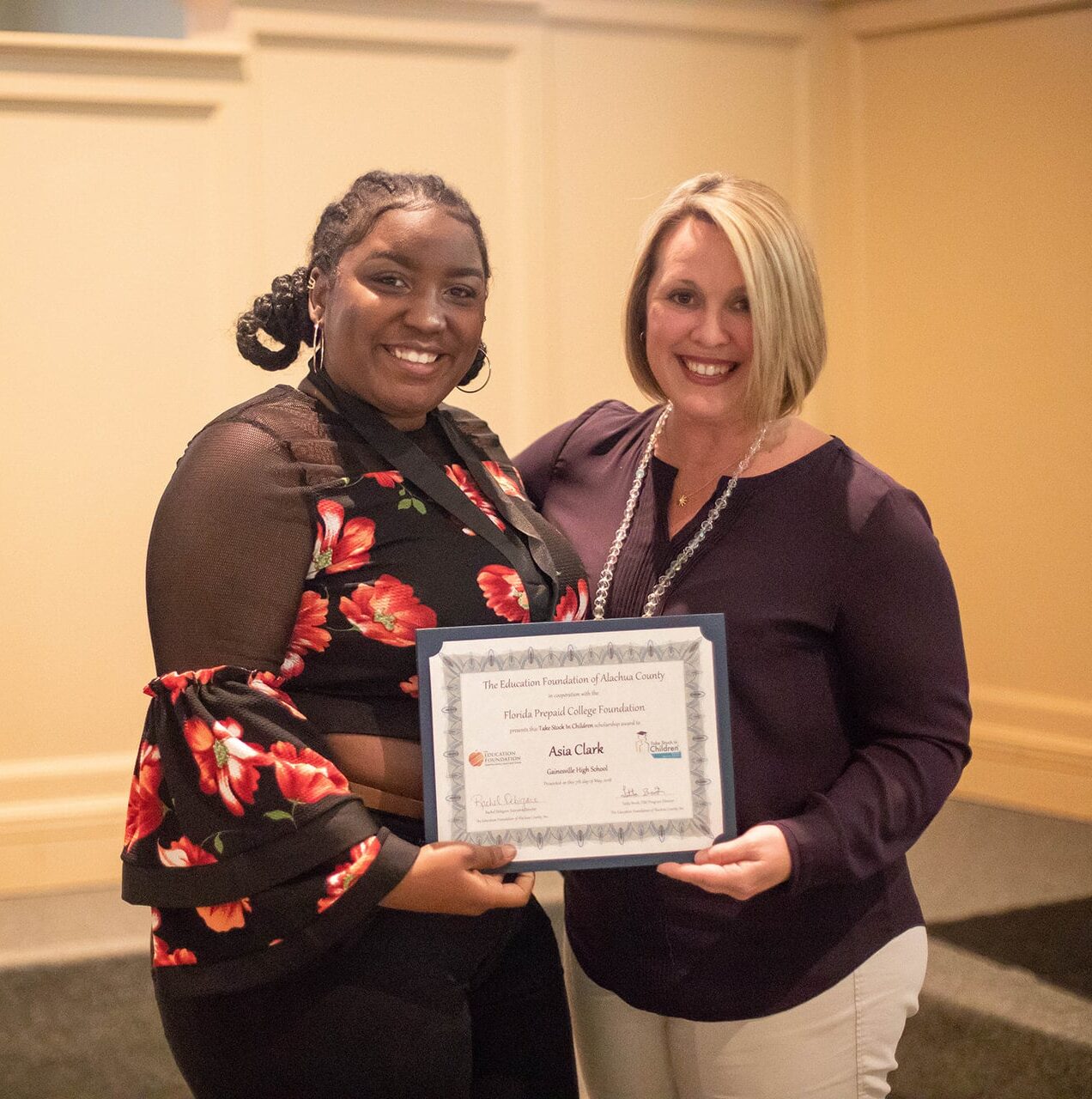 65
high school senior recipients
How to Apply
To be eligible, students must be in 12th-grade in an Alachua County public high school.
---
Application are now closed for 2022. You can view the list of recipients from the class of 2022 by clicking at the button below.
Timeline
The scholarship application opens on our website – January 5, 2022
Application closes – February 15, 2022
Preliminary grading of applications – February 21 – March 9, 2022
Sponsors review and select recipients – March through April 2022
Venture Afar Scholarship interviews – April 9, 2022
Students notified of winning via email at end of April or early May
Application Instructions
The application for spring 2022 will open on Wednesday, January 5, 2022.
As part of the online application process, students will be required to:
Answer a general questionnaire detailing general academic and financial information.
Upload a personal resume detailing academic and extracurricular activities.
Submit a letter of recommendation from a teacher, guidance counselor, coach, employer, or community leader.
Answer the following short essay questions:

Describe your plans for college education and your future career goals.
Describe a special attribute, accomplishment, or experience that you believe sets you apart.
Please note: some scholarships require applicants to submit additional information.
Please contact our Director of Programs, Tatila Brock-Paul, with any questions by phone at (352) 955-7250 Ext. 6416 our by email at brocktt@gm.sbac.edu.
View a complete list of the scholarship opportunities for 2022 here:
The funds from the Dr. Eva A. Dimitrov Memorial Scholarship scholarship have allowed for me to focus on school. I have been able to put the required time and effort into my education and work towards my goal of graduating with honors. I have also been able to explore my interests and get involved with organizations that I would have otherwise not had the ability to join; such as Omicron Delta Kappa, an arts and communications honor society and FSU choruses. My scholarship has allowed for me to take advantage of so many other opportunities, and I am forever grateful for that.

Kathryn Voorneveld, 2018 Scholarship Recipient

The funds from the Venture Afar Scholarship have enabled me to afford tuition & attend Georgia Tech; being a part of the Georgia Tech CS curriculum & community has provided me with access to a very rigorous and enriching technical program and numerous entrepreneurship opportunities. My greatest accomplishments in college so far have been landing a software engineering internship after my first year at FIXD. I also had my startup accepted into the Startup Launch accelerator after my second year in college.

Amir Helmy, 2018 Scholarship Receipient
---