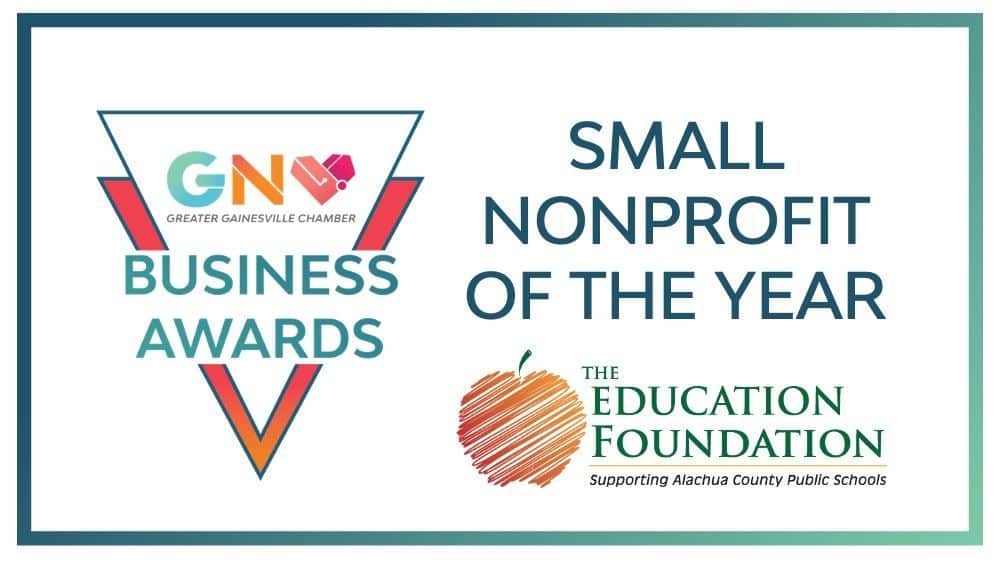 Small Nonprofit of the Year
December 10, 2020 – The Education Foundation of Alachua County was recognized by the Greater Gainesville Chamber as the Small Nonprofit of the Year for 2020.  

"We are honored to be recognized as the Small Nonprofit of the Year, particularly at the end of a year such as this one," said Executive Director Rachel Debigare. "Throughout all of the changes that took place, our staff and board held on to one thing: that we were committed to do whatever it took to help students and teachers in Alachua County. We are certainly proud of what we were able to accomplish this year."

In 2020, The Education Foundation of Alachua County awarded over $750,000 in college scholarships. It also supported teachers with nearly $150,000 worth of investment, including funding eight Catalyst for Change grants and awarding each of the 1,800 public school teachers with a gift card. Since March, the Foundation transitioned its Take Stock in Children program to virtual services, hosted over 2,000 mentor sessions and accepted 50 new students.

The Education Foundation of Alachua County works alongside the Alachua County Public School system to invest in local students and teachers. Through student scholarships, one-on-one mentoring, and teacher and school grants, students are empowered and equipped to graduate from high school and exceed at the next level. With The Education Foundation in their corner, students are able to achieve their dreams and are given the guidance and tools to better their lives and create a generational impact on their families and communities.

Learn more at https://edfoundationac.org/about-the-education-foundation/.